Posts for tag: root canal treatment
By Jonathan Berns, DDS
May 24, 2020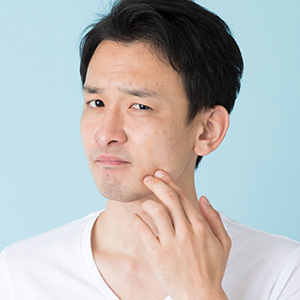 Bad news at your last dental visit: You have a decayed tooth. And not just in the enamel—the decay has invaded the tooth's inner pulp and the resulting infection is threatening the supporting bone structure.
You're thinking that tooth is toast. Then comes the good news: your dentist believes the tooth can be rescued with a root canal treatment.
But then you begin thinking about how often Uncle Sid says he'd rather undergo a colonoscopy than have a root canal. Is the procedure really as painful and uncomfortable as popular culture says it is? What is a root canal really like?
First step: Things go numb. Uncle Sid is wrong: A root canal treatment is painless because your dentist will first make sure the entire area involving the tooth is anesthetized. This does involve injecting the local anesthetic deep within the tissues, but you won't even feel the needle prick thanks to topical anesthesia applied to the surface gums.
Second step: Drilling deep. After applying a protective dam to isolate the infected tooth from its neighbors, your dentist will drill a small access hole through the enamel and dentin to reach the pulp and root canals. If it's one of the larger back teeth, the access hole is usually drilled in the tooth's biting surface; in a front tooth, the hole is usually located on the tongue side.
Third Step: Removing diseased tissue. Using special instruments, your dentist will remove the diseased tissue in the pulp and root canals, essentially stopping the infection and any tooth pain you've been experiencing. The empty pulp chamber and canals are often then disinfected with a special antibacterial solution.
Fourth Step: Protecting the tooth. After some shaping, the pulp chamber and root canals are filled with a special filling to prevent further infection. The access hole is then filled and sealed to complete the procedure. At some point in the future, the tooth typically will need a crown to add support and further protection.
You may have some minor discomfort afterward, but this can usually be managed with a mild pain reliever like ibuprofen or acetaminophen. After a week or so, you'll be good as new—and so will your tooth.
If you would like more information on root canal therapy, please contact us or schedule an appointment for a consultation. You can also learn more about this topic by reading the Dear Doctor magazine article "A Step-By-Step Guide to Root Canal Treatment."
By Jonathan Berns, DDS
April 24, 2020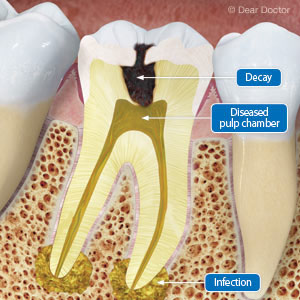 Root canal treatments have suffered a bad rap over the years—and undeservedly. While we applaud root canal therapy for the millions of decayed teeth the procedure has saved, the worn-out cliché that it's painful still lingers on.
So, let's set the record straight: a root canal treatment doesn't cause pain, it most often relieves it. Let's look a little closer at what actually happens before, during and after this tooth-saving treatment.
Before: a tooth in crisis. Tooth decay can damage more than a tooth's outer enamel. This aggressive bacterial infection can work its way into a tooth's interior, destroying the nerves and blood vessels in the pulp, before moving on to the roots and supporting bone through the root canals. Untreated, this devastating process can lead to tooth loss. A root canal treatment, however, can stop the invading decay and save the tooth.
During: stopping the disease. The dentist first numbs the tooth and surrounding gum tissues with local anesthetic—the only thing you might normally feel during treatment is a slight pressure. They then drill into the tooth to access the inner pulp and root canals and remove all diseased tissue. Once the interior spaces of the tooth have been disinfected, the dentist then fills the empty pulp chamber and root canals with a pliable filling called gutta percha to prevent future infection.
After: preventing re-infection. With the filling complete, the dentist then seals the access hole. There may be some minor soreness for a few days, similar to the aftermath of a routine filling, which can usually be managed with over-the-counter pain relievers like ibuprofen. Sometime later, the dentist will normally finish the treatment with a new crown on the tooth. This accomplishes two things: It helps strengthen the tooth against stress fracturing and it provides another layer of protection against future decay.
Root canal treatments have an exceptional track record for giving diseased teeth a second chance. There's nothing to fear—and everything to gain for your troubled tooth.
If you would like more information on root canal treatment, please contact us or schedule an appointment for a consultation. You can also learn more about this topic by reading the Dear Doctor magazine article "Root Canal Treatment: What You Need to Know."
By Jonathan Berns, DDS
April 26, 2017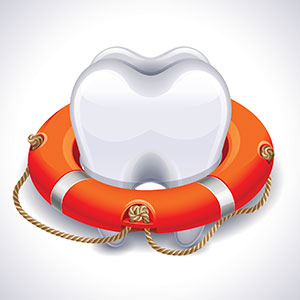 It's no exaggeration — dental implants have revolutionized teeth replacement. Life-like and durable, implants are the closest thing in design and function to a natural tooth.
In fact, there's only one thing better than a dental implant — a real tooth. For function and long-term oral health, you can't beat what nature provided you in the first place. So before you finally decide to remove and replace that problem tooth, consider these other options for saving it.
Root canal therapy. Tooth decay can do more than cause cavities — it can work its way into the pulp, the innermost layer of a tooth. If it isn't stopped here, it could continue on to the roots and put the tooth in real danger of loss. A root canal treatment removes the infection from the pulp and root canals and replaces the space with a filling. A life-like crown is then bonded or cemented to the tooth to protect it from further infection.
Aggressive treatment for periodontal (gum) disease. This other dental disease is just as damaging as tooth decay. Caused by bacterial plaque, the gums around a tooth become infected and inflamed. As it moves deeper into the tissues and inflammation progresses, it can affect supporting bone causing it to dissolve. To prevent this potential bone loss, it's important to seek out and remove hidden pockets of plaque. This may require surgery to access the roots for plaque and calculus (tartar) removal, but it's well worth it to preserve the tooth.
Bone grafting. As mentioned before, gum disease can ultimately lead to bone loss. But even when bone loss has occurred (a substantial threat to a tooth's survival) we may be able to reverse it with bone grafting techniques. During this procedure we insert grafting material at the loss site along with substances that stimulate growth. The graft serves as a scaffold for new bone cells to grow upon. Over time the bone volume increases and helps stabilize a weak tooth.
Of course, your best option is to avoid dental disease in the first place with daily brushing and flossing and regular dental visits for cleanings and checkups. That and treating dental disease in its earliest stages will help ensure you'll have the best teeth possible — your own.
If you would like more information on options for treating diseased teeth, please contact us or schedule an appointment for a consultation. You can also learn more about this topic by reading the Dear Doctor magazine article "Save a Tooth or Get an Implant?"